Bane NOR is a state-owned company responsible for the national railway infrastructure.
Bane NOR's mission is to ensure accessible railway infrastructure and efficient and user-friendly services, including the development of hubs and freight terminals.
The company is responsible for the planning, development, administration, operation and maintenance of the national railway network, traffic management and administration and development of railway property. Bane NOR has operational coordination responsibility for safety work and for the coordination of emergency preparedness and crisis management.
Bane NOR has approximately 4,500 employees and the head office is in Oslo, Norway.
The Geomatics section has 6 people which supply geomatic services to entire Bane NOR, including:
Supply different types of map data via national cooperations and projects
Distribute map data for survey, planning and construction projects
Produce thematic maps for various purposes
Assist ordering and control of field measurements
Manage and develop web mapping solution for Bane NOR (Banekart)
Advising and training for users of Banekart
Counselling in use of geodata
The thematic map production in the geomatics section aims to visualize the data from other parts of the organization in either a schematic or a geographic format. Usually the product is delivered digitally for screen viewing, via file sharing or e-mail. Sometimes, a paper output in layouts for A4, A3, A1, A0 or other formats is required. The scales can be small to accommodate the whole of Norway or bigger to allow more details when looking at individual lines, stations and projects. The cartography is a mixture of national and international standards with addition of Bane NOR special developments to support the requirements of internal or external clients. About 15-20 people use the geodata and/or GIS/CAD tasks in planning, engineering and construction projects for Bane NOR.
Map examples:
1. schematic map: % of capacity used over 24h (Figure 1)
The schematic network is constructed according to principles established by the eminent technical draftsman Harry Beck working for the London Underground in the 1930s. All lines are drawn straight, all angles are multiples of 45 degrees and topologically accurate. In addition, the Bane NOR network is linearly referenced by km, allowing dynamic segmentation and automatic visualization of data by km. Error in position along the line is within a km, stations are geographically correct in any direction within 10-15 km. The thickness of the line is in this case proportional to the capacity for train traffic, and the line colour show how much capacity is used by the timetable for 2016. Annual editions of these maps have been used in statistical reports for decades and aid executives and politicians in understanding bottlenecks and support decisions of infrastructure investments. Today, similar maps are produced by the Norwegian Railway Directorate.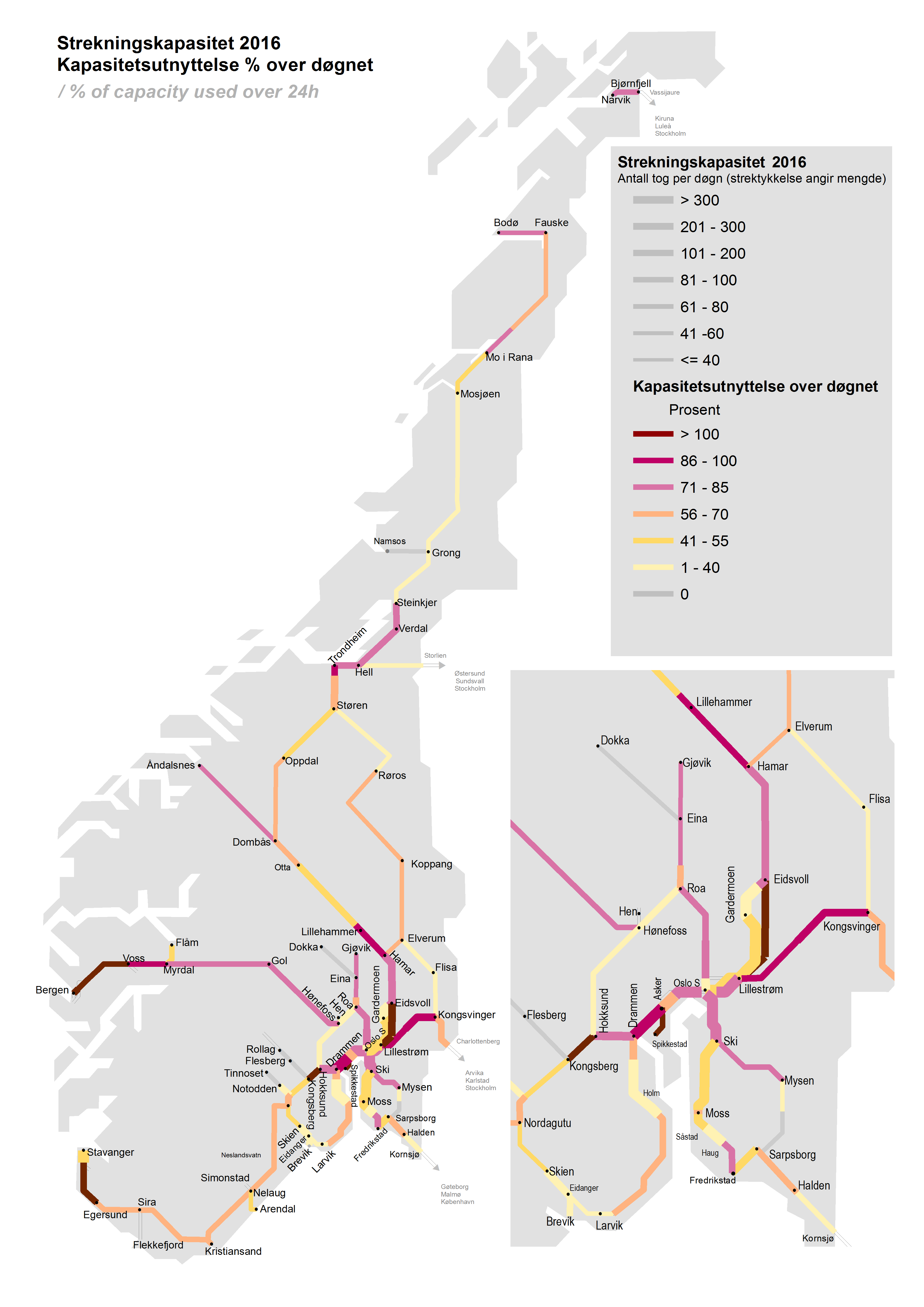 2. geographic map: Wind exposed railway lines (Figure 2)
This example is part of a 10-map series covering all of Norway, showing in colour what parts of the Northern line has a history of strong winds. The wind data is collected from meteorological stations near (< 20 km) from the railway in the period 1960-2019. The strongest average wind is shown in squares and gusts are the larger surrounding circles. 5 shades of green indicate Beaufort 7-11, with strongest being the darkest. Beaufort 12 (hurricane) is substituted by the Saffir-Simpson I-V categories of hurricanes, with V at the top (red) level. The wind gust data is projected on to the railway line in segments between railway stations. Anticipated increases in gusts strength and better proximity of measurements can be expected to better advise freight operations on the line