Statistics Norway is the national statistical institute of Norway and the main producer of official statistics. We are responsible for collecting, producing and communicating statistics related to the economy, population and society at national, regional and local levels.
In addition to having primary responsibility for meeting the need for statistics on Norwegian society, Statistics Norway is also a driving force in international statistical cooperation.
Official statistics is the nation's common factual basis and is essential for a living democracy. The statistics aim to reflect society and show trends for the population, living conditions, the economy, the environment and employment. Individuals, businesses, the authorities, the media, educational institutions and researchers alike can all enjoy and benefit from Norwegian official statistics.
Statistics Norway reports to the Ministry of Finance and is subject to the provisions of the Statistics Act. However, Statistics Norway is a professionally autonomous organization, which means it can determine what it publishes, as well as how and when the publishing takes place.
The institute has 850 employees in total (2018), broken down by 310 at the Kongsvinger office and 540 at the Oslo office. Statistics Norway consists of 7 departments, of which 3 are statistical departments; Department of prices, financial and external statistics, Department of social statistics, and Department of national accounts and industry statistics.
In 2018 Statistics Norway published 814 statistical releases on 315 statistics (yearly, quarterly, monthly and weekly statistics) in addition to analysis and research publications (https://www.ssb.no/en/). Many of the statistics contain figures on regional level (counties, municipalities, basic statistical units in addition to different administrative and dynamic borders). Our main dissemination product for statistics on regional level is the Statbank (https://www.ssb.no/en/statbank).
Our expertise at GIS and geospatial data is mainly gathered in the Division for housing, property, spatial and agricultural statistics. In addition, there is a Centre of Excellence – the "GIS resource centre" – which coordinates many GIS activities in the institution. On a regular basis, around 10 persons are engaged in activities involving GIS, cartography and visualization at Statistics Norway.
Statistics Norway is responsible for some map data sets in accordance with the INSPIRE directive. These data sets can be found at the Geonorge Map catalogue (https://kartkatalog.geonorge.no/search?Facets%5B0%5D.name=organization&Facets%5B0%5D.value=Statistics%20Norway), and can also be found at our own map application Maps from Statistics Norway (https://kart.ssb.no/).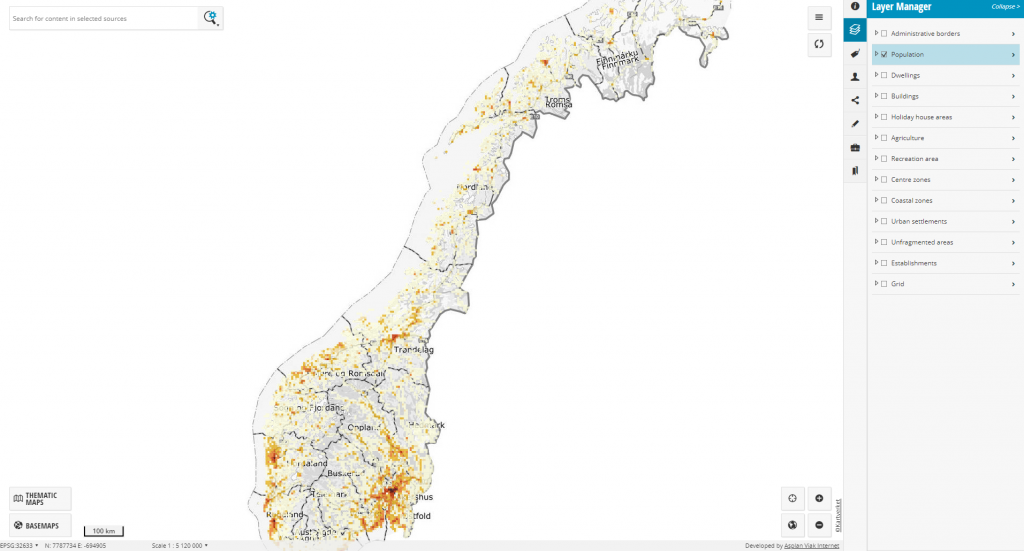 Choropleth map applications
Gender equality
The indicators for gender equality in Norwegian municipalities are a set of twelve indicators that are important and relevant for describing gender equality at a local and national level over time, such as gender distribution in private and public sector, share of men/women in work force and part-time employment, gender distribution among leaders in private and public sector and among municipal council representatives. The indicators are based on administrative register data available at municipal level. These indicators are presented on a choropleth map (Norwegian language version only) (https://ssb1.maps.arcgis.com/apps/MapSeries/index.html?appid=7e3c8ea937754b9d84952585cb9fdf85)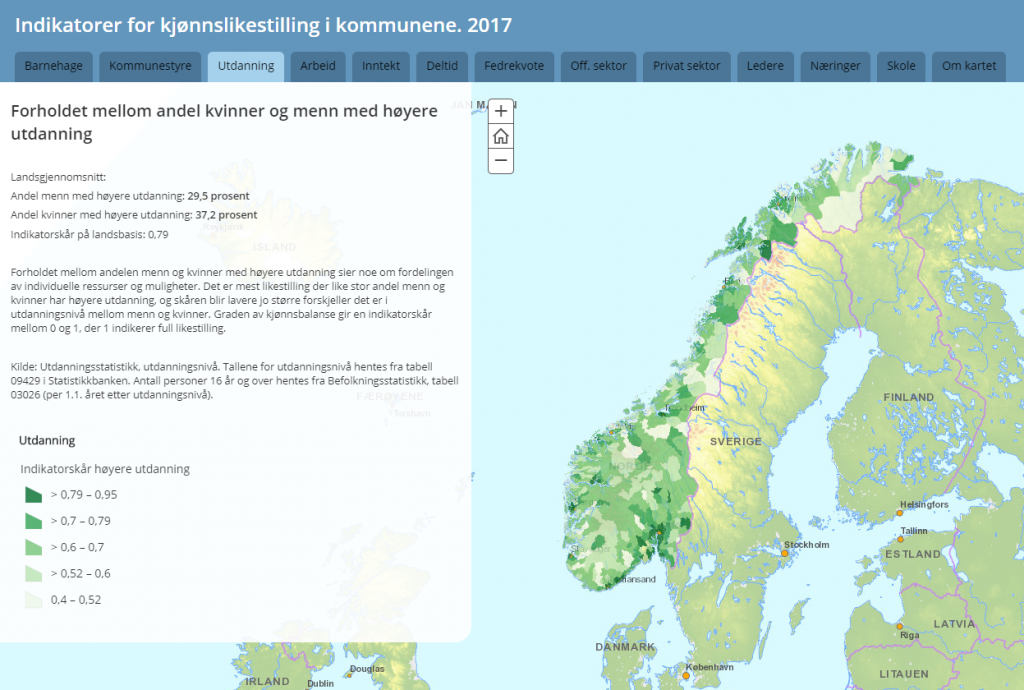 Population projections
Population projections are calculations of how the population in Norway will potentially develop over time, given different assumptions about fertility, mortality, internal migration, immigration and emigration. These projections are presented on a choropleth map (Norwegian language version only) (http://ssb1.maps.arcgis.com/apps/MapSeries/index.html?appid=59ccdd3707ef4a76bdab47e760e7674a)