yr.no
Yr is a Norwegian weather service, using technology to simplify weather information. Yr is provided by the Norwegian Meteorological Institute and the broadcast company NRK. We have maps on both the webpage and our app.
Wind map
In 2023 Yr launched a new map layer for wind on the website. The design focus has been on making the map and the data as accessible as possible. In the map layer this means creating features that allow users to orient themselves, such as points of interest, in a contrast that makes them easy to see even for users with diminished eyesight.
The goal was to create a color palette that gives the users an easy overview of the wind speed and direction. The color palette takes into account the most typical forms of color
blindness and makes sure that even those who are unable to discern any color at all still can make out where the wind is intense and where it is weak. The image illustrates a version of
the color palette with the bars on the right side representing the colors as seen with the most common forms of color blindness.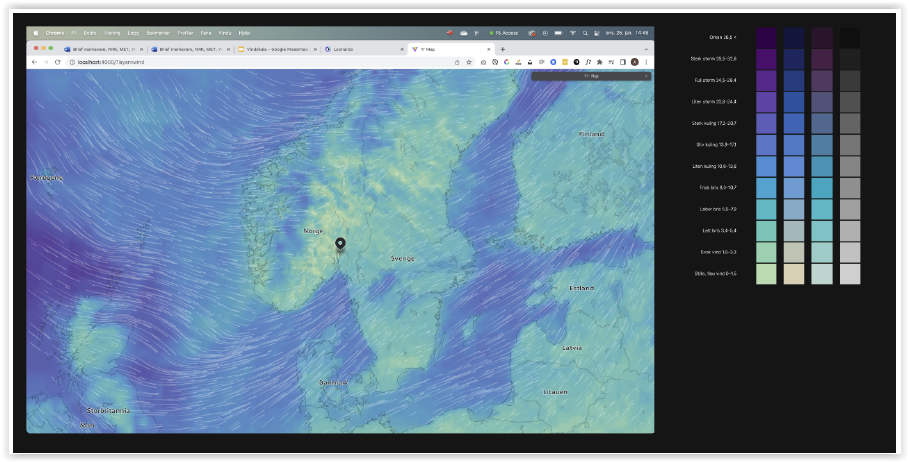 To achieve what we wanted with the wind map, and subsequent map layers, we decided to take ownership of the whole technology stack in the Yr team. We have based the
background map on an open source framework called Maplibre, and many of the data layers are from OpenStreetMap. With this basis we add on our own data where we need absolute
control, f.ex. location names and national borders. We host the map on our own infrastructure and create map tiles that we style ourselves. On top of these tiles we add the
wind data created for the map by MET Norway. To animate the data our developers learned how to program shader code using WebGL.
Weather maps at Yr are connected to Yr's database of 13 million places around the world
In 2020 we created a new simplified digital weather map for the website. This map is used in our apps as well, and we add a weather radar animation for the precipitation forecast (see
the map to the right).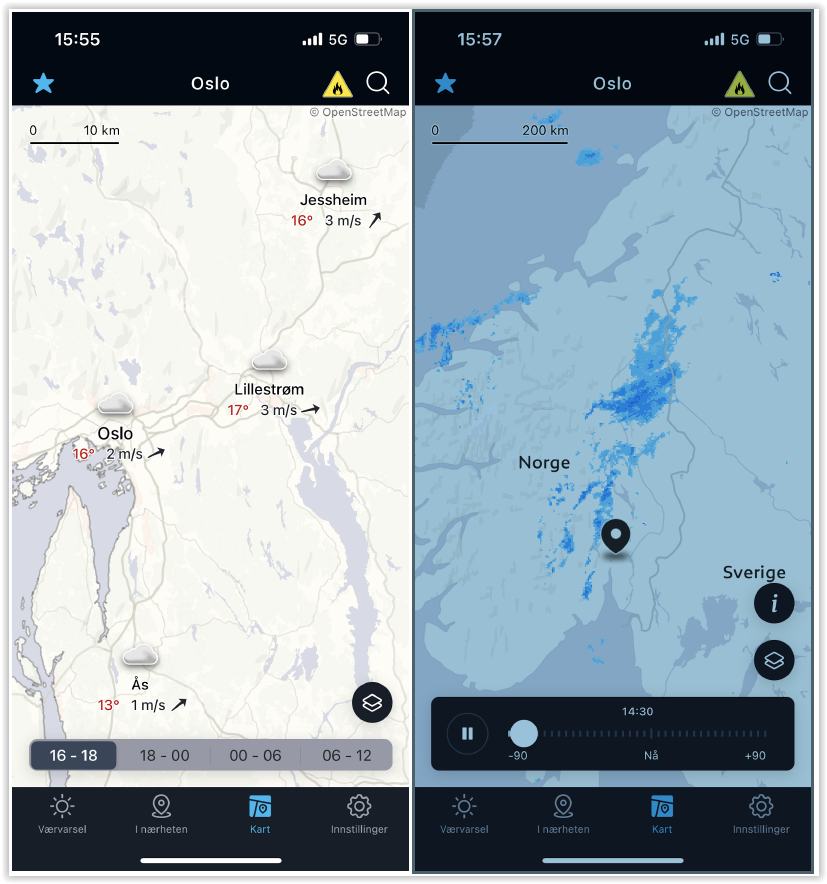 This weather map is supposed to give an overview of the weather in an area, by highlighting places that are more exposed to the weather than others.
It is not random which place names appear in our area map. We have put a lot of work into selecting places that can give users the best impression of variations in the weather. We
strive to guide the users to make the best possible decisions based on the weather forecast.
Mountain peaks, lighthouses and other places that often experience rough weather, are given extra points in the selection of places to be shown. In this way, we hope to help users
make good and safe choices when planning their trip. Both in the mountains and by the sea.
Yr weather app available for download:
– App (iOS): https://apps.apple.com/us/app/yr-no/id490989206
– App (Google): https://play.google.com/store/apps/details?id=no.nrk.yr